| | |
| --- | --- |
| 4 Fun Spring Activities for this Year! | Thursday, April 1, 2021 |
After a long winter indoors the sunshine and longer days are a treat! We all feel bright and cheery when the sun is shining and that's because pleasant weather improves mood. Studies have shown that "being outside in pleasant weather really offers a way to reset your mindset." People who spent 30 minutes outside on a sunny day improved their mental health and mood! It's time to go back outside to enjoy the warm weather safely.
Here are 4 outdoor activities to try this spring!
1. Get to gardening
This is the perfect time to get your garden summer ready! You can clean up the yard and start planting beautiful flowers like daffodils, hyacinths, tulips, or violas. If flowers aren't your thing, you can get an early start on your vegetable garden and plant tomatoes, carrots, onions, and much more. For older adults where mobility is a challenge bring gardening indoors with indoor planters and pots. Try repotting an easy-care plant such as a cactus or succulent. You can enjoy gardening safely inside!
2. Go on a walk
You can cure the winter blues by going on a daily walk in the spring! Walking outside has shown to increase creativity, reduce stress, and improve concentration. When you're walking outside, you're enjoying what mother nature has to offer - the sunshine, the birds singing, the green grass and the budding flowers. There are beautiful parks and trails in the Waterloo region! You can head to Waterloo Park, Victoria Park, or the Walter Bean trail to enjoy the fresh air. Local parks are a great option for older adults because they have paved paths for walking assistive devices.
3. Play an outdoor game
As we get older, we lose the art and joy of play - especially playing outside. In our hectic lives, we should take time to play because it offers relaxation, stimulation, fuels our imagination, improves problem-solving abilities and emotional well-being. Play could be sharing jokes, throwing a ball around, blowing bubbles, or a fun yard game, like ring toss. It's easy to play outside! Whatever game you like to play inside - take it outside! If your elderly loved one likes playing card games, play outside on a comfortable picnic bench.
4. Bird watching
If you're looking for a new hobby, you should consider bird watching. You can learn more about birds and also practice the art of slowing down. When birding, you're task involves waiting patiently and still for the birds to appear. It contrasts our hectic daily lives of being on the go!
As the birds return for spring, you can head to bird-watching areas to be surrounded by nature. A great local birding spot is the Grand River. They have "hot spot" recommendations listed on their website. Bird watching can be also done in the comforts of your backyard or local park. At home, you and your elderly loved one can set up a bird feeder and watch the birds, or you can sit on a bench at the park to watch the birds.
From birding to gardening and everything in-between the goal is to be outside to enjoy the sunshine. This spring commit to 30 mins of outdoor activity on a sunny day! It can be as simple as sitting outside on the front porch or walking a nearby trail. It's time to go back outside to enjoy the sunshine and warm weather!
| | |
| --- | --- |
| | Lissette Mairena Wong at 11:10 AM |
| | |
| --- | --- |
| 4 Ways to Achieve Well-being | Tuesday, March 16, 2021 |
What is "well-being"? 
Well-being is all about having a positive outlook on life, maintaining a purpose despite stress or loss, having a realistic sense of control over one's life, and having a strong sense of self. These conditions are not constant but instead fluctuate constantly. It is possible to achieve a sense of well-being even amidst declining health.
But how is well-being achieved?
Some practical ways to achieve well-being would be eating well, exercising, drinking less alcohol, not smoking, and stimulating your mind. But there are also other ways to achieve well-being!
1. Being Optimistic
Optimism is about taking "the sourest lemon life has to offer and then turning it into something resembling lemonade." Optimism is often associated with happiness or with a positive person but it is much more than that! Practicing optimism has shown to build resiliency, increase goal achievement and increase overall well-being.
​
2. Being Grateful 
Dr. Peter Naus – an advocate for positive views on ageing – says to be sure to "count what you have, and not what you lack," and by doing so you are one step closer to achieving well-being. Gratitude impacts well-being positively because it has shown to reduce anxiety and increase positive emotions. It is a powerful experience to count what you already have rather than focusing on what you don't have!
3. Seeking Adventure
Believe it or not, old-age can be a time for adventure. In the midst of an adventure, you can discover new insights and experiences!  Simply having a vision and a dream can inspire you to experience new adventures – big or small – these memories will hold value, novelty and positive emotions. Dr. Naus encourages us to live well at every stage of life and remember that it is never too late for a change! 
4. Sharing Wisdom
Sharing wisdom creates a sense of purpose and meaning for many retired seniors! Wisdom is developed over time as you gain insight, practice good judgment and most of all live through varying experiences.
There are pervasive negative connotations throughout Canadian society regarding ageing. There is a strong market for "anti-ageing" products and services, but the term alone is problematic. By deeming a product or service "anti-ageing" it is suggestive that there is an inherent problem with ageing.
However, the wisest group in Canadian society is our ageing population! As wisdom is passed down to younger generations, the experience of ageing becomes purposeful and meaningful. Even though abilities may change, health may fluctuate and losses may occur, prioritizing your personal well-being can truly lead to you living your best life.  
Seniors are valued for the wisdom they can share with others. They are living proof that ageing is not synonymous with being sick and helpless. Instead, old age can be a time for deep fulfillment and pleasure, a time for personal well-being! 
| | |
| --- | --- |
| | Lissette Mairena Wong at 12:35 PM |
| | |
| --- | --- |
| Your Role in Creating an Inclusive Community | Wednesday, February 17, 2021 |
Inclusion is a hot topic and a very important one for our elderly population. It emphasizes the importance of inviting the active participation of all citizens, including our elderly population, into our social fabric. Our current social fabric has changed with the pandemic making it difficult for seniors to be active participants. It's important we protect our elderly population by practicing social distancing and by wearing PPE, but we must also take next steps to protect their wellbeing.
Social Isolation and Loneliness 
Studies have found that social isolation and loneliness are major risk factors linked to increased blood pressure, heart disease, diminished immune system, depression, anxiety, and poor cognitive functioning. Social isolation has a profound impact on older adults' health and wellbeing!
The Canadian Network for the Prevention of Elder Abuse (CNPEA) has reported (before COVID-19) that:
Being socially isolated is a common affliction among older adults. More than 30% of Canadian seniors are at risk of becoming socially isolated.
Isolation and loneliness are as bad for your health as smoking 15 cigarettes a day.
And, social isolation can put seniors at increased risk for elder abuse.
What can you do to help?
1. Welcome your elderly loved one into the online world
Don't assume your elderly loved one can't use a smartphone, tablet or computer, instead encourage them by writing out instructions so they can connect online with their friends and loved ones. They will pleasantly surprise you! When they get the hang of it pay attention to their feedback and advocate for technological improvements.
Technology is a powerful tool but it needs improvement to include everyone – not just the abled. It's time for developers and creators to involve older adults and family caregivers in the creation process. There are millions of apps out there but the majority of them aren't suited for the elderly. The first step, you can take is leaving reviews on google or the app store.
2. Advocate for an age-friendly community
Being age-friendly means that there are no barriers to accessing services in the community, regardless of age or ability. A city that is designed to include and be accessible for its elderly residents is automatically factoring in the needs of its younger population.
For example, if a community is accessible for someone using a walker or wheelchair, it is also accessible to a parent pushing a stroller. The examples that we think of quickly are usually about physical accommodation such as ramps, wider doorways, longer crosswalk signals, accessible parking etc. You can advocate by attending virtual town halls, writing emails to your local MP, and voting at the next municipal elections.
3. Challenge ageist stereotypes and bias
Dr. John Lewis, professor at the University of Waterloo, points out that currently, one-quarter of Waterloo Region's population is age 55 plus. That number is only going to increase in the next few decades. It is not acceptable that there are ageist prejudices towards 1/4 of our population! If we want to have a community that is inclusive to all members, it needs to be designed to suit those who are age 55 and older.
Often, these issues relate directly to coping with ageism. Ageism is the stereotyping of and prejudices against someone because of their age. It might include automatically treating someone in a certain way, just because they appear to be a senior.
For example, assuming someone is hard of hearing because they have gray hair is an ageist stereotype. Another example is the way that professionals often speak about a senior to their family members, as though the senior is not even in the room! The conversation should be directed to the relevant person, regardless of age.
Age is just a number. There are stories online of incredible seniors thriving in their 80s and even 90s! For example, Gladys Burrill at the age of 86 completed her first Honolulu Marathon. She was also a world traveller, a licensed pilot, an avid hiker and a prolific gardener. Read stories online and share them on social media to challenge ageism and other stereotypes. 
4. Respect and include those with Dementia
In addition to physical challenges, some people experience cognitive changes. These people deserve the same level of respect and inclusion as all other members of society. Brenda Hounam, dementia advocate and spokesperson, highly advises communicating about dementia itself. Rather than hiding her challenges with dementia, she has decided to be very public and make others aware of her disease.
Hounam suggests that people "open the doors for communication—just ask". She feels that it is much better to ask for clarification and to communicate clearly with someone who has dementia; do not just make assumptions. She asks that people do more than just listen; she wants people to truly hear and validate what she is saying. Hounam's overarching message is that "we are all unique, and we all have something to contribute until the last breath."
Being inclusive and respectful of all citizens—regardless of age, ability, or illness—better allows us to fully acknowledge and appreciate the contributions of all members of society.
5. Encourage community and support
Your elderly loved one is socially distancing but they don't have to be socially isolated! Reach out to your loved one regularly by chatting on phone or by setting up a safely distanced date. If you can't visit them in person, try contacting an organization for support. At Warm Embrace Elder Care, there are wonderful caregivers who can safely visit your elderly loved one! Our caregivers wear PPE and encourage proper nutrition, physical exercise and mental stimulation.
During this pandemic, social distancing has become a safety protocol but it shouldn't have to coincide with social isolating. Let's take the necessary steps together to protect our elderly population. If you have questions or comments, write a comment below or contact us!
| | |
| --- | --- |
| | Lissette Mairena Wong at 12:27 PM |
| | |
| --- | --- |
| November is Fall Prevention Month! | Thursday, October 29, 2020 |
In 2014, a number of organizations across Canada came together to promote a campaign called Fall Prevention Month. During the month of November, this campaign encourages organizations and individuals to come together to coordinate fall prevention efforts for a larger impact. The goal is to collectively raise awareness about fall prevention strategies and to help everyone see their role in keeping older adults safe, active, independent and healthy.
How do falls impact seniors?
Unintentional falls are the leading cause of injury for Ontarians aged 65 and over. About 20 to 30% of seniors experience 1 or more falls each year. 
Falls cause:
85 % of seniors' injury-related hospitalizations
95 % of all hip fractures 

50% of all falls causing hospitalization happens at home

Over 1/3 of seniors are admitted to long-term care following hospitalization for a fall

The average Canadian seniors stay in the hospital 10 days longer for falls than any other cause
Falls result in chronic pain, reduced mobility, loss of independence and even death 
Recovering from a fall can be very difficult and with an increasing number of falls, it is important we take measures to prevent them.
How can you prevent falls?
The good news is that falls are preventable injuries! There are five key factors that caregivers and seniors should consider in order to prevent falls.
Eyesight – Vision is an important part of balance and good vision helps to prevent falls. Your elderly loved one could be experiencing vision loss or a condition, such as macular degeneration which is not a part of normal ageing. Everyone who is over the age of 65 should have their vision checked every year. 
Your home – If you have clutter on your floors or stairs, it increases the chance of tripping and/or slipping. Make sure cords, scattered rugs, pet toys, books, etc. are in their proper place. Also, if your home is dark it increases the chance of falling, especially on stairs. Make sure to create a space that is well-lit! 
Exercise - the most important thing you can do to prevent falls is to stay and remain strong! Walking, fishing, gardening, tai chi. Light yoga – whatever you enjoy! – do it to increase activity levels. At Warm Embrace elder care, our caregivers can help encourage and motivate your elderly loved one to stay active through our program called Tiered Exercise Program.
Medication – Some medications cause dizziness on their own, or when mixed with others. It's important to properly manage your health! Always take medication as directed and ask your pharmacist to review them if you are taking more than 2 medications.
Eating a healthy diet – Vitamin D and calcium help to keep strong bones. A diet to include more greens, lean protein, and less sugar will help you in remaining strong. You may want to talk to your doctor about supplements or other alternatives. 
Most of all, don't do it alone!
It takes a community to prevent a fall and we all have a role to play. Here at Warm Embrace, we have a wonderful team of caregivers who can help you and your loved one to remain safe at home.
| | |
| --- | --- |
| | Lissette Mairena Wong at 11:19 AM |
| | |
| --- | --- |
| 5 Festive Autumn Activities | Thursday, September 17, 2020 |
Autumn is a wonderful time of year filled with fall colours, harvest crops, hearty comfort food, warm fuzzy sweaters, and long walks rustling your feet through the leaves. Really, all the sights, sounds and smells of fall time are lovely! Even during these unprecedented times, why not try a fun and festive activity with an elderly loved one.
Here are Five Fun Activities to try this Fall Season!
1) Prepare Homemade Treats
Baking, mixing and preparing treats are fun activities that many older adults enjoy. You can follow a family recipe or flip through some cookbooks to discover new recipes. You can make something as simple as apple crisp or a no-bake pumpkin cheesecake. Another idea is decorating sugar cookies with your loved one! If baking is too messy, you can always pre-bake the cookies and just decorate them with your elderly loved one. 
To follow social distancing rules, you can prep and make these treats for your loved ones and surprise them with a special delivery. Another idea is prepping and decorating premade cookies outside on a nice sunny autumn day. 
2) Pumpkin carvings and painting
Pumpkin carvings are a must tradition every fall season. You can carve all sorts of patterns on pumpkins but if carving is too much strain on wrists and hands you can always introduce painting on pumpkins to your elderly loved one. You can have an assortment of paint colours to design a unique pumpkin and then you can put them on display so that everyone can see. This is a great activity you can do outside and from a distance with your loved one. 
3) Enjoy the natural scenery and fresh air
Bundle up and breathe the fresh autumn air! You can go on a short walk in the park to admire the beautiful coloured leaves that fall brings. You can go to a local park like Victoria or Waterloo Park and walk a scenic trail hearing the crunch of the fallen leaves under your feet.
If you can't take your loved one out too far why not go somewhere nearby? You can relax in the backyard, front porch, or go on a short walk to pick up the mail. If it's too cold outside for your loved one, you can always go on a relaxing country drive to see all the colours or simply open up some windows and blinds to let the fresh air inside.
4) Get festive with fall decorations
Crafting and decorating are always fun activities! With proper social distancing rules, you can help an elderly loved one to decorate their home with fall colours. You can introduce neat craft ideas with dried up fallen leaves, such as collecting them to make cards.
5) Hang out online
If visiting your loved one in person is not an option, you should consider an online hang out! There are several ways you can connect online with your family member. You can video call your loved one, play an online game together, or watch a movie! 
This autumn season introduces a new activity to your elderly loved one - it may be cooler weather - but it's a lovely season to spend quality time with friends and family.
| | |
| --- | --- |
| | Lissette Mairena Wong at 1:16 PM |
| | |
| --- | --- |
| 7 Summer Fun Activities for Seniors during COVID-19 | Thursday, July 23, 2020 |
It's a beautiful summer day, and you want to enjoy the gorgeous weather with your elderly parent or grandparent; the big question is, what can you do together safely? Even with social distancing and other COVID-19 rules, there are activities you can enjoy with your elderly loved one. 
While the heat and sunshine sometimes send the elderly indoors, there are safe ways to enjoy the summer weather (in small doses!). Be sure to select days that are not too hot or humid and remain in the shade as much as possible. Drink lots of water and ensure your loved one is wearing a hat and loose-fitting clothing. Once all the precautions to stay cool are in place, you can enjoy some summer fun activities outdoors!
Here are 7 activities that will appeal to older generations and that will spark reminiscing of summers gone by.
1. Watch the Sunset at the Beach — regardless of age, watching the sunset shimmering over the water can be relaxing. If your loved one is up for a challenge, go for a walk along the beach and collect seashells, or build a sandcastle. If the beach is too far away, watch the sunset over the Grand River, or the ponds at your local park.
2. Play a Game Golf — for avid golfers who can no longer handle the demands of an 18-hole golf course, mini-golf is a great option to enjoy putting, without the twisting action of driving the ball. However, if your loved one can still play a game of golf, call your local golf course to schedule a tee time. 
3. Make Lemonade from Scratch — this would have been the only way to have lemonade 70 or 80 years ago! Your elderly loved ones may even remember a favourite family recipe. You can always modify the recipe to accommodate diabetic needs by reducing sugar or replacing sugar with sweeteners.
4. Go Fishing — many grandfathers have taken their children and grandchildren on fishing expeditions. Now, it might be your turn to take your grandfather out fishing. Tip: fishing off a pier or stable dock might be more accessible (i.e.: able to use a walker or wheelchair) than fishing from a boat or riverside.
5. Have a Picnic at the Park — a good old-fashioned picnic basket filled with favourite treats will always bring a smile! You can be sure to accommodate special dietary requirements when packing the picnic basket. Be sure to look for a picnic table or bring along a lawn chair (sitting directly on the ground might be difficult; getting up from the ground could be even harder!).
6. See a Movie at the Drive-In Theatre — this will feel like a flash from the past! Drive-In theatres still operate and often feature classic movies from varying eras. The drive-in has many benefits for the elderly—they can remain in a comfortable seat in the car, they don't have to fight any crowds on foot, and the volume can be set to the level that suits their hearing. Of course, it does mean a late night out, but that's all part of the fun!
7. Pick Wildflowers — who doesn't love a vase full of fresh flowers? It's even better when you pick the flowers yourself and create the arrangement! Best of all, this fun summer activity doesn't cost a penny.
If your elderly loved one is homebound and tech-savvy, you can connect with them online. Take your video call outside! A weekly video call to share summer stories and photos can be a great way to enjoy this summer. 
Hopefully, you now have an idea or two of a fun, lighthearted way to spend time with elderly relatives even during these times.  Comment and share with us your summer fun ideas!  
| | |
| --- | --- |
| | Lissette Mairena Wong at 10:34 AM |
| | |
| --- | --- |
| 7 Father's Day Gift Ideas | Tuesday, June 9, 2020 |
You can still make Father's Day special for your dad, even if your annual tradition has been cancelled. With keeping social distancing rules, you can safely visit your dad or you can gift him a special gift.
Here are a few ideas on how you can celebrate your dad on Father's Day!
1. Enjoy the beautiful weather outside by golfing
Golf courses are now open in the region! Make sure to reserve your tee time by calling your favourite golf course. The trick is to plan ahead!
2. Go on a walk
Going one a walk is not only great exercise but also the perfect time to reconnect with your dad. Be sure to be mindful of the warmer weather. It may be best to go on a morning or evening walk when the weather is a bit cooler. 
3. Consider gift certificates
The physically demanding activities of home maintenance are likely difficult, so provide your loved one with a gift certificate for regular home maintenance chores such as grass cutting, garden upkeep, window washing, snow shovelling, etc.
4. Look into homemaking and household assistance
Household chores can also become quite burdensome. Your loved one will greatly appreciate a gift certificate for housekeeping. 
5. Purchase personal items
Residents in long-term care use their own preferred personal care items such as hand soap, lotion, toothpaste, etc. A care package of your loved one's favourite items is always appreciated! The scent is strongly linked with memory and emotion; selecting a favourite scent can induce positive memories.
6. Get creative and create a fun family photo wall
Photos are one of the ways to personalize your living space, be reminded of your closest friends and family, or commemorate a favourite event. For someone with advanced dementia, adjust their environment to match their internal reality. Have photos to match their strongest memories.  Select pieces that bring comfort or joy and spark a memory. 
7. Buy a cozy quilt or a weighted blanket
Having a cozy item such as a small blanket or lap quilt is always comforting. It can be left on the bed or on a chair in your loved one's room. If your dad has trouble sleeping, you should consider a weighted blanket. Weighted blankets are therapeutic by providing deep pressure stimulation to reduce anxiety, relieve pain, improve mood, ease stress and fight insomnia.
Your dad might be feeling isolated during these times so don't cancel your Father's Day plans. Instead, make it extra special for him. Comment below and share with us unique gift ideas and how you're going to celebrate Father's Day.
We hope you have a wonderful Father's Day. Happy Father's Day to all of the dads, grandfather's and great grandfathers out there!
| | |
| --- | --- |
| | Lissette Mairena Wong at 12:25 PM |
| | |
| --- | --- |
| What's Seniors' Month? | Tuesday, June 2, 2020 |
June is Seniors' month, and it's the perfect time to recognize and appreciate seniors! Seniors prove that ageing doesn't need to prevent anyone from leading fulfilling lives, instead they outline that ageing enhances life experiences.
Every day seniors are breaking the mould by leading fulfilling lives! So, let's put to rest those negative stereotypes when it comes to ageing. Instead, we should all celebrate and appreciate the contributions that seniors are making in our communities.
Seniors are an important part of our community because they contribute their wisdom, friendship and experiences. As a community, it is our responsibility to ensure that we create an environment where all citizens are valued and respected throughout the life process.                  
How do we create that environment?
The key to creating this environment is prioritizing intergenerational opportunities, between the young and the old. When we create intergenerational opportunities, we are creating this space where seniors have the ability to pass along their wisdom and advice to generations. This environment then breaks down barriers between generations and puts to rest negative stereotypes that surround ageing. When those barriers are removed, open and honest conversations are shared between different generations. When founded upon mutual respect, intergenerational learning can be deeply impactful for everyone involved!
Why is celebrating our Seniors so important?
When we celebrate our seniors, we are affirming that their contributions are ever so important to the fabric of our communities. Without our seniors' accomplishments, our communities would not be what they are today!   
This June, in honour of Seniors' month, make an effort to spend time with someone who is from a different generation than you—or maybe even two or three generations! Pause, and truly listen, and learn from each other and you will reap the rewards of intergenerational sharing.
Here at Warm Embrace Elder Care, we want to thank all of the wonderful seniors that we see on a daily basis. We are continually learning from you and are enlightened by your viewpoints. It is an honour to serve you!
| | |
| --- | --- |
| | Lissette Mairena Wong at 2:32 PM |
| | |
| --- | --- |
| 5 Healthy Eating Tips for Older Adults | Wednesday, May 27, 2020 |
As we age our bodies experience physiological changes such as an increase/decrease in body weight, loss of muscle mass, absorption changes and sensory losses of taste & smell.
As our bodies change so do our nutritional needs! Eating nutritious meals in later years of life has been shown to have many positive side effects. Some of these include: increased energy levels, the ability to recuperate quicker from illnesses, manage chronic health problems and reduce the risk of chronic diseases.
The majority of older adults will have nutrition concerns such as dehydration, constipation, malnutrition, swallowing difficulties (known as dysphagia), diabetes, heart disease, osteoporosis, and arthritis. That's why some seniors will be on a special diet such as low sodium, diabetic or pre-diabetic, thickened liquids or minced/pureed foods.
There are 5 special nutrient needs to consider for your elderly loved one.
1. Protein
Most older adults aren't eating enough protein in their diet! Protein supports a healthy immune system, it prevents muscle wasting and optimizes bone mass. As we age, we begin to lose muscle mass so we shouldn't decrease our protein intake. Each meal should include at least 20-30 g of protein. Make sure there is a source of protein at all meals and throughout the day! For example, drink a glass of milk with your lunch or snack on nuts throughout the day. For your elderly loved one, a great snack with lots of protein could be a bottle of Ensure.
2. Calcium and Vitamin D
In a healthy body, bones are constantly being broken down and rebuilt. About 10% to 30% of the adult skeleton is replenished each year! As we age, our bones break down quicker than they can be built which leads to decreasing bone density. To help build our bones, we need calcium and vitamin D.
One way to increase calcium and vitamin D intake is to drink fortified beverages at meals, such as orange juice with vitamin D. Vitamin D supplements are also a great idea to increase intake. Another idea is to add powdered skim milk to beverages (coffee or tea) or to eat pudding/yogurt for dessert! It can be tricky to increase your vitamin D intake but remember that calcium and vitamin D work together to build our bones.
3. Vitamin B12
This vitamin is needed to make DNA, red blood cells and helps to keep the nerves working properly. It has shown that Vitamin B12 deficiency can lead to poor cognition, anemia, fatigue, depression, confusion and tingling in hands and feet. Vitamin B12 is primarily found in animal products and sometimes is added to other foods (e.g. soy products). That is why it is highly recommended for those on a vegan diet to take Vitamin B12 supplements. 
4. Fibre
Fibre needs are different between men and women over the age of 50. Men need about 30 g/day and women need about 21 g/day. Did you know that there are two types of fibre, soluble and insoluble? Soluble fibre lowers cholesterol level, controls blood sugar, prevents colon cancer and assists with weight loss. Insoluble fibre promotes regularity and a healthy digestive system. Soluble fibres can be found in oatmeal, beans, lentils, nuts, and fruits. While insoluble fibres are found in whole-grains, barley, dark leafy vegetables, brown rice, and root vegetable skins.
It is recommended to have at least 6 servings of grain products a day. The easiest way to increase fibre is to always choose whole-grain products rather than refined and processed grains. It is also recommended to have 7 servings of fruits and vegetables a day. When preparing vegetables and fruits, eat peels whenever possible and snack on fruit rather than candies.
5. Fluid
As we age our sense of thirst declines, therefore older adults are more likely to experience dehydration! If fluid intake is consistently low, older adults can experience symptoms of dehydration – thirst, dry lips and mouth, flushed skin, tiredness, dark strong urine, headache, fainting and low blood pressure. Older adults need a minimum of 6 cups of fluid per day to remain hydrated and healthy! Prioritize your fluid intake by carrying a water bottle throughout your day, drinking water as the first and last task in the day, and by eating soup for lunch/dinner. Don't ignore thirst! Drink before you feel thirsty. Drink, drink and drink water to combat dehydration!
Start a healthy lifestyle today!
It can feel overwhelming to start eating healthy but it's not impossible. Eating healthy can be fun! Look up healthy and delicious recipes and start cooking away with your loved one. If cooking is not your thing, consider prepared meals by this local catering business. They make incredible healthy delicious meals and snacks! It's never too late to start eating healthy. Why not start today?
| | |
| --- | --- |
| | Lissette Mairena Wong at 1:05 PM |
| | |
| --- | --- |
| Highlighting Local: Little Mushroom Catering | Wednesday, May 20, 2020 |
Have you been working from home, homeschooling the kids and caring for your elderly parents? You may be working more now than ever before and you are not alone! There are incredible local businesses that have switched their gears to help busy parents and adult children of elderly parents. Recently we connected with Stephanie Soulis, the founder of Little Mushroom Catering, and discovered that they've created a new service to help both busy adult children and isolated seniors.
Who is Little Mushroom Catering?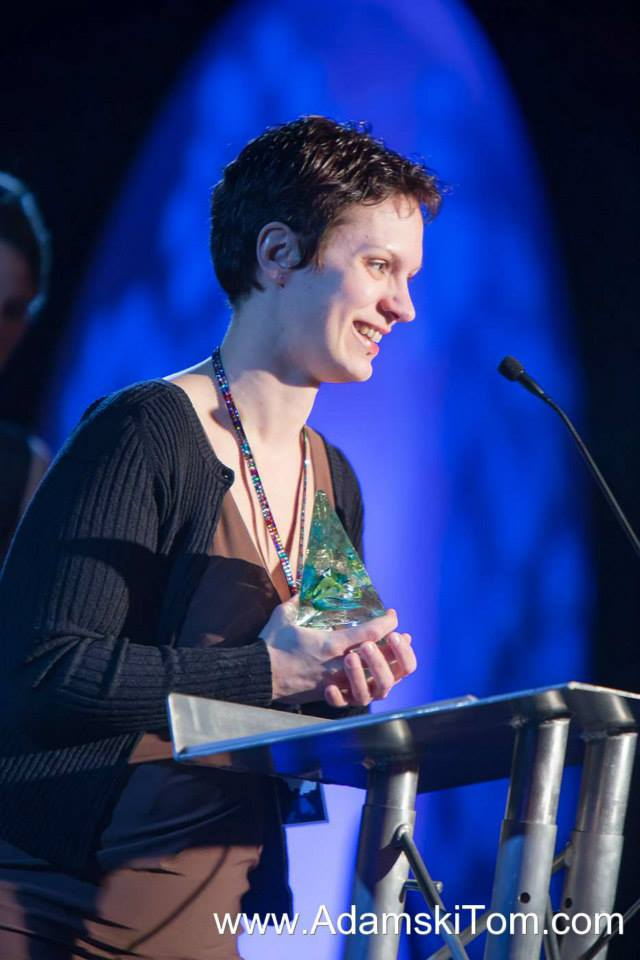 Little Mushroom Catering is a local catering business based in Waterloo Region. Over the past ten years, they have grown to become the leader of full-service catering in Southwestern Ontario, catering weddings and big corporate events. Their heart is to be community and environmentally focused. The majority of the ingredients and foods they use are sourced from local farmers, and they've won multiple awards for their sustainability efforts.
On March 15th, Little Mushroom Catering completely changed like so many other local businesses. As all of the big events that had been booked began to cancel, owner Stephanie Soulis knew that she had to do something to survive this pandemic. She began to hear the needs of parents and adult children with senior parents. She realized that she could provide ingredients and foods that were running low at grocery stores. Most of all, she realized that busy working parents need help cooking and decided to create a prepared meal service.
Prepared meals don't have to be bland and boring!
They can be delicious and nutritious when they are made with fresh ingredients! Soulis offers delicious prepared meals, snacks and sides. She said one of their most popular items is butter chicken; "ours isn't super spicy but it has tons of flavour so people who want to try something new often try the butter chicken since the heat levels aren't huge." Another classic meal they offer is pulled pork. It sells out almost weekly!
Other great meals for seniors include lasagna, chilli, tomato soup, Thai carrot soup,
broccoli cheddar soup, and of course their weekly specials. The amazing part of Little Mushroom Catering is that everything is made from scratch! If your loved one has a special diet or request, they can easily accommodate "because [they've] been making everything fresh."
Healthy & Special Diet Accommodation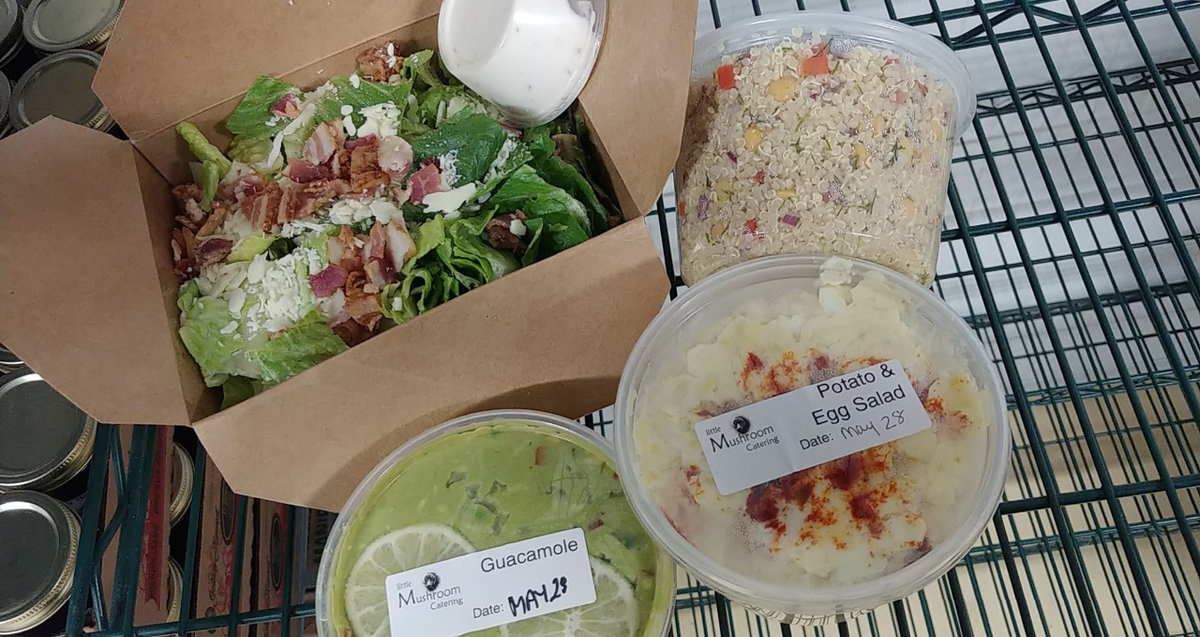 Soulis was inspired to include heart-healthy options after one of her regular clients suffered a heart attack. Every week he would order his meals, and one week she noticed that he didn't order. She soon found out that he had a heart attack from being overworked and stressed during this pandemic. Soulis said "because of him we wanted to ensure that we're making healthy foods. We love cooking with butter but we have options [that are] low sodium, low sugar, and low fat." They also have vegan, vegetarian, gluten-free and nut-free options – their entire facility is nut-free!
So, how do you order these delicious meals?
You can either order over the phone or online – both are great options that only take a few steps! You can choose their delivery option or their pick up option. Little Mushroom Catering provides deliveries on Tuesday and Thursday evenings and they cover a wide geographical area.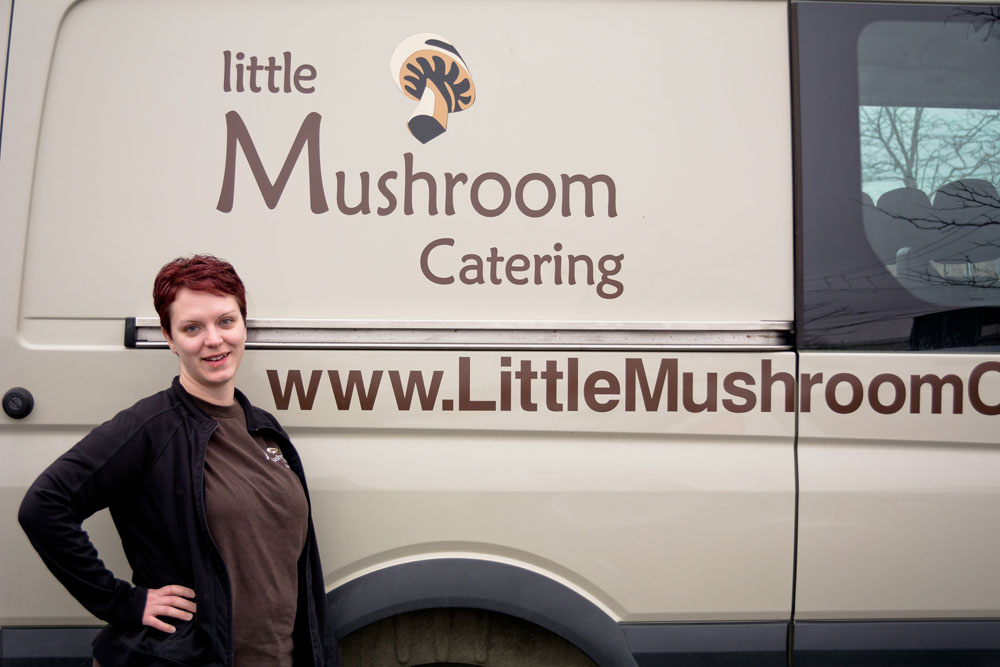 They also have pick-up options every Tuesday, Thursday and Friday afternoon from 1 to 4 pm. For pick up, all you have to do is request a time and they bring the food out to your trunk! You remain in your car and pop the trunk—it's that easy. The delivery service is a great option for busy parents, homebound seniors, or anyone without a driver's licence. You could even have the food delivered to your elderly parents' home, just make sure to give them a heads up.
Prepared Meals Plus More
Little Mushroom Catering does even more than prepared meals. They also have a grocery store cart online. When you are ordering your prepared meals, you can also order fresh local ingredients that you can't find at grocery stores.  There are fresh ingredients (like local asparagus) as well as pantry goods you may need to stock up on. They always have flour and toilet paper if you need it!
The truly tempting part is the dessert section. They have a large selection of delectable desserts; you're bound to find a sweet treat for almost any taste.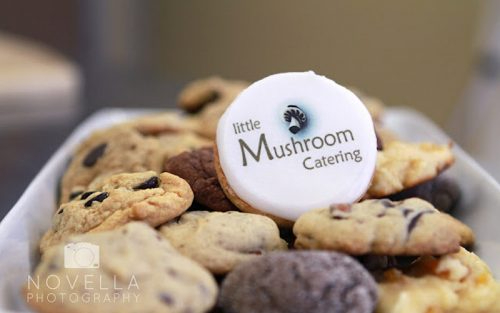 Little Mushroom Catering also gives you the opportunity to pay it forward. In their grocery store cart, you can give back by adding a $15 meal for a frontline worker or a $2 cookie for a healthcare worker.
Let's support local!
Instead of buying typical frozen meals that are full of sodium from a big-box grocery store, consider Little Mushroom Catering. They are local, using fresh locally-sourced ingredients, to create healthy meals. Not only are you supporting the local business of Little Mushroom Catering, but you're also supporting their entire local supply chains such as Oakridge Acres beef or Barrie's Asparagus or sauces from Wooden Boat Food Co.
When it's too hot to cook or you want to ensure that your elderly relatives have a filling, healthy meal, be sure to check out Little Mushroom Catering and have your next delicious meal delivered!
| | |
| --- | --- |
| | Lissette Mairena Wong at 12:01 PM |
Contributors
Latest Posts
Archive
2021

April

March

February

January

2020

December

November

October

September

August

July

June

May

April

March

February

January

2019

December

November

October

September

August

July

June

May

April

March

February

January

2018

December

November

September

August

July

June

May

April

March

February

2017
Tags
Everything
Dementia
Long Term Care
Homecare
Retirement Home
Alzheimer's
Parkinson's
Aging
Elder Abuse
Holiday
Warm Stories
Healthy Living
Health Care
Events
Companionship
Sandwich Generation
Respite Care
Independence
Staying in your own home
Parents Refusing Help
Activities