When a loved one has dementia or Alzheimer's disease, it can be difficult to know what to talk about. Sometimes, family members will even say "I didn't know what to talk about and it felt awkward, so I just stopped visiting."
Rest assured, your visits mean the world to your loved one!  It's almost guaranteed that any awkwardness was felt by you, more than it was felt by them.  Sometimes, just being present is enough. Just being together in the same room conveys love and caring and appreciation.
When you do try to strike up a conversation, here are a few tips that may ease the conversation.
1. Talk about right now
Comment on your surroundings—are the flowers just poking through the ground outside? Is it warm or cold out? Is it a bright sunny day or dreary and overcast?  When you comment on the environment around you, you are welcoming the person with dementia to experience the environment equally. They too can comment on the weather or the temperature. They too can appreciate the view out the window of the garden or the trees or the sky.  Commenting on this very moment does not require memory or complex executive functioning.  Simply noticing and commenting on your five senses is a great way to stay focused on the moment at hand and invite your loved one to join you on equal footing.
2. I thought of you the other day when…
This is a great way to draw your loved one in and help them to feel connected to you and your everyday life.  This simple line conveys ongoing love and caring.  It gives you the opportunity to share more about what is happening in your life.  You can cue your loved one with some information and it may spark a memory that otherwise may not have surfaced.  When you say "I thought of you when I was driving Liam to school the other day…" you might be surprised that your loved one suddenly asks about their grandson Liam and a whole new conversation starts.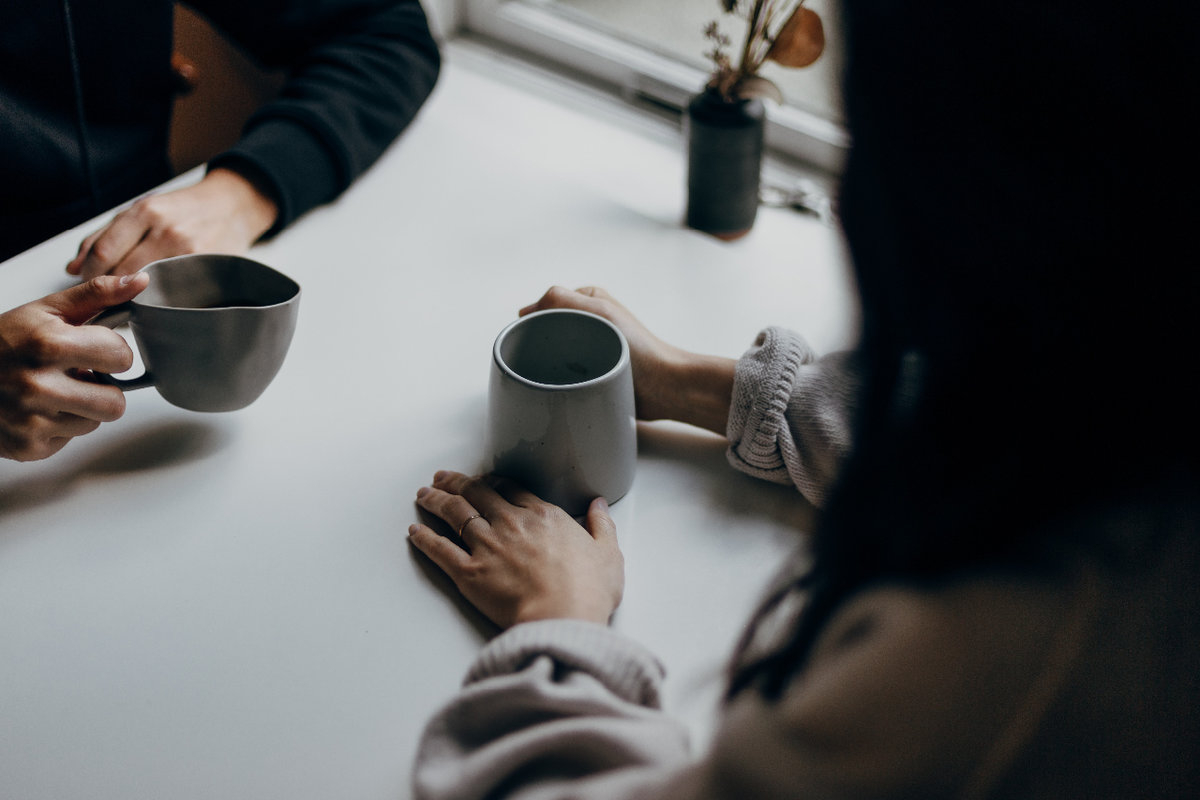 3. I was remembering the time you…
Get the storytelling rolling without asking a question.  If you ask "do you remember the story you used to tell about…." It puts pressure on your loved one to remember something specific. Instead, you start the story by saying "I was remembering the story you told about…"  If you see the spark of recognition, then step back and let your loved one fill in all the blanks. If they can't recall that story in the moment, you can tell it however you best remember it and share that family moment together. Either way, you're sharing your family history together without it feeling like a "test" that someone has to remember.
4. What is your favourite…? Do you prefer…?
If you're going to ask a question, be sure it's an opinion-based question.  Opinions can't be wrong! If you ask an opinion-based question of someone who has Alzheimer's disease, you may be amazed at the robust answer you receive.  Asking "did you attend bingo yesterday afternoon?" is a fact-based question. The answer is either correct or incorrect and the person with dementia can sense it. If they're unsure of the answer, the question suddenly feels like a test.  Instead say, "I see both bingo and euchre are on the schedule this week. Which do you prefer?" The opinion-based question invites your loved one to provide a personal opinion as a response. If they actually did attend bingo yesterday, you may cue their memory of attending bingo by providing information before you ask the opinion question.
5. What do you think about…?
Again, this question is an opinion-based question.  Ask "what do you think about…?" of things that are in the moment and do not depend upon memory or complex reasoning.  Asking "what do you think about the upcoming election?" is probably not a fair question unless your loved one is a long-standing political junkie who has been following the news.  Asking "what do you think about this guest on Ellen DeGeneres?" while you're watching the show together is probably a better question. It is current and based on information from that moment only. Because it is an opinion question, it allows for a response of "I don't know" or "nothing" and that's perfectly fine. You may just be surprised at what does pop out though!
Don't be afraid of having a conversation with loved ones who have dementia or Alzheimer's disease.
There may be times when you need to carry more of the conversation or times when you are simply sharing comfortable silence together, but there will also be times when your loved one will surprise you by sharing more opinions or memories than you expected!  If you follow the 5 tips above and stay completely in the moment, provide some information to cue your loved one, and only ask opinion-based questions, you just may have more engaging conversations.