Have you been working from home, homeschooling the kids and caring for your elderly parents? You may be working more now than ever before and you are not alone! There are incredible local businesses that have switched their gears to help busy parents and adult children of elderly parents. Recently we connected with Stephanie Soulis, the founder of Little Mushroom Catering, and discovered that they've created a new service to help both busy adult children and isolated seniors.
Who is Little Mushroom Catering?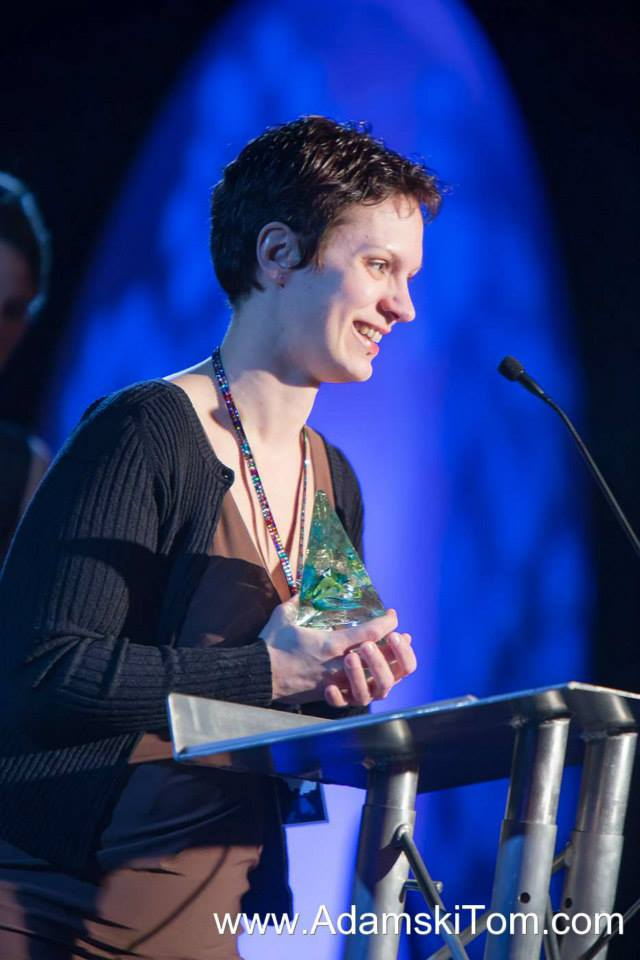 Little Mushroom Catering is a local catering business based in Waterloo Region. Over the past ten years, they have grown to become the leader of full-service catering in Southwestern Ontario, catering weddings and big corporate events. Their heart is to be community and environmentally focused. The majority of the ingredients and foods they use are sourced from local farmers, and they've won multiple awards for their sustainability efforts.
On March 15th, Little Mushroom Catering completely changed like so many other local businesses. As all of the big events that had been booked began to cancel, owner Stephanie Soulis knew that she had to do something to survive this pandemic. She began to hear the needs of parents and adult children with senior parents. She realized that she could provide ingredients and foods that were running low at grocery stores. Most of all, she realized that busy working parents need help cooking and decided to create a prepared meal service.
Prepared meals don't have to be bland and boring!
They can be delicious and nutritious when they are made with fresh ingredients! Soulis offers delicious prepared meals, snacks and sides. She said one of their most popular items is butter chicken; "ours isn't super spicy but it has tons of flavour so people who want to try something new often try the butter chicken since the heat levels aren't huge." Another classic meal they offer is pulled pork. It sells out almost weekly!
Other great meals for seniors include lasagna, chilli, tomato soup, Thai carrot soup,
broccoli cheddar soup, and of course their weekly specials. The amazing part of Little Mushroom Catering is that everything is made from scratch! If your loved one has a special diet or request, they can easily accommodate "because [they've] been making everything fresh."
Healthy & Special Diet Accommodation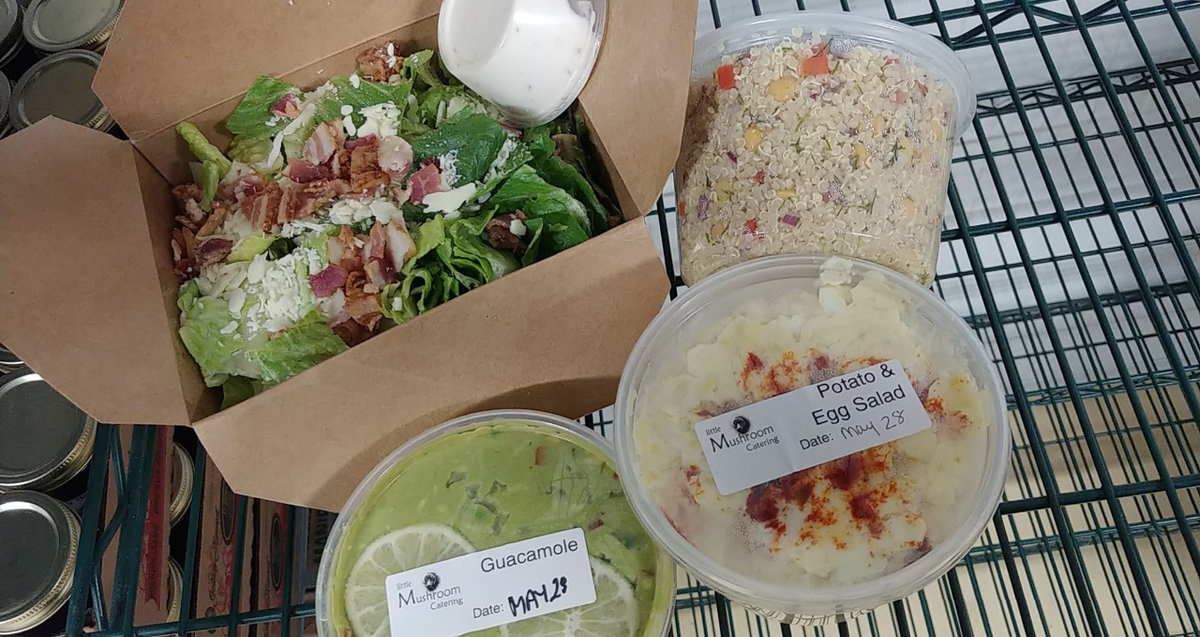 Soulis was inspired to include heart-healthy options after one of her regular clients suffered a heart attack. Every week he would order his meals, and one week she noticed that he didn't order. She soon found out that he had a heart attack from being overworked and stressed during this pandemic. Soulis said "because of him we wanted to ensure that we're making healthy foods. We love cooking with butter but we have options [that are] low sodium, low sugar, and low fat." They also have vegan, vegetarian, gluten-free and nut-free options – their entire facility is nut-free!
So, how do you order these delicious meals?
You can either order over the phone or online – both are great options that only take a few steps! You can choose their delivery option or their pick up option. Little Mushroom Catering provides deliveries on Tuesday and Thursday evenings and they cover a wide geographical area.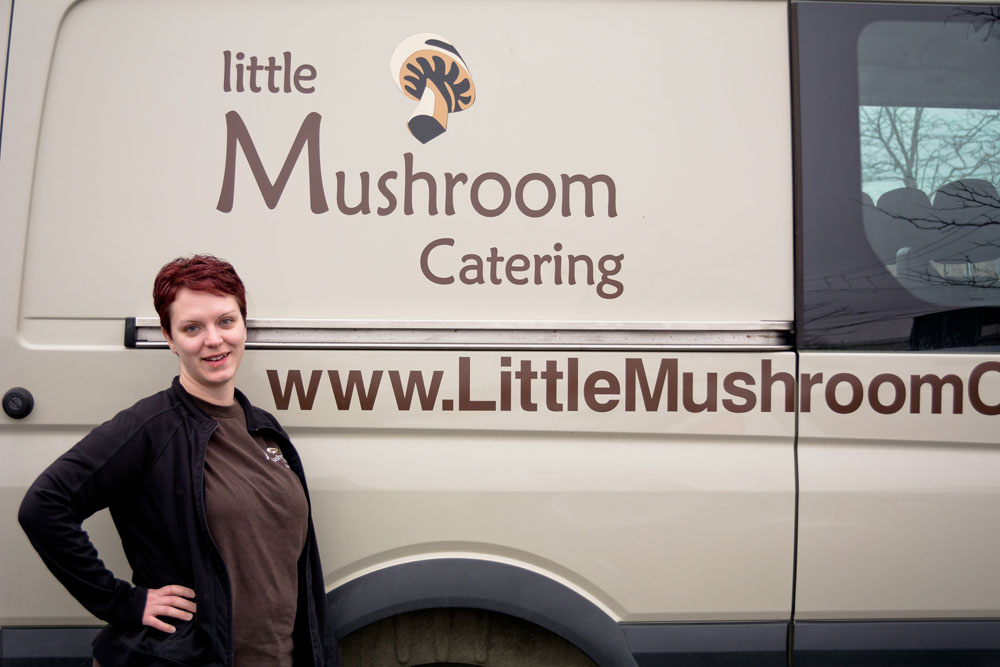 They also have pick-up options every Tuesday, Thursday and Friday afternoon from 1 to 4 pm. For pick up, all you have to do is request a time and they bring the food out to your trunk! You remain in your car and pop the trunk—it's that easy. The delivery service is a great option for busy parents, homebound seniors, or anyone without a driver's licence. You could even have the food delivered to your elderly parents' home, just make sure to give them a heads up.
Prepared Meals Plus More
Little Mushroom Catering does even more than prepared meals. They also have a grocery store cart online. When you are ordering your prepared meals, you can also order fresh local ingredients that you can't find at grocery stores.  There are fresh ingredients (like local asparagus) as well as pantry goods you may need to stock up on. They always have flour and toilet paper if you need it!
The truly tempting part is the dessert section. They have a large selection of delectable desserts; you're bound to find a sweet treat for almost any taste.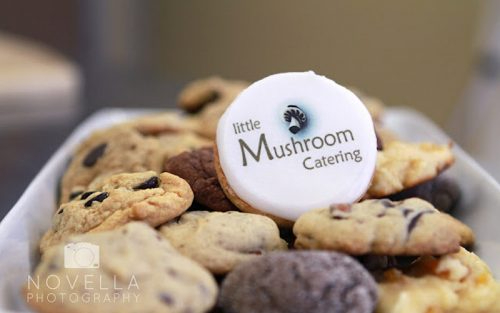 Little Mushroom Catering also gives you the opportunity to pay it forward. In their grocery store cart, you can give back by adding a $15 meal for a frontline worker or a $2 cookie for a healthcare worker.
Let's support local!
Instead of buying typical frozen meals that are full of sodium from a big-box grocery store, consider Little Mushroom Catering. They are local, using fresh locally-sourced ingredients, to create healthy meals. Not only are you supporting the local business of Little Mushroom Catering, but you're also supporting their entire local supply chains such as Oakridge Acres beef or Barrie's Asparagus or sauces from Wooden Boat Food Co.
When it's too hot to cook or you want to ensure that your elderly relatives have a filling, healthy meal, be sure to check out Little Mushroom Catering and have your next delicious meal delivered!