| | |
| --- | --- |
| Are You at Risk for Incontinence? | Wednesday, July 8, 2020 |
Urinary incontinence. It's not a topic people like to even think about, much less discuss. And yet, it is far more common than people realize.
Among seniors who are living in the community, 5-10% experience urinary incontinence.  If someone is in acute care, such as a hospital setting, that number increases to 10-20%.  And the highest proportion of all is within long term care with 50-70% of all residents are incontinent.
These numbers increase so markedly for a number of reasons.
For starters, there is such a wide range in percentages precisely because people fail to report urinary incontinence.  Many people attempt to hide it, and sadly, only 25% seek medical attention for incontinence. Urinary incontinence is not inevitable and it is not a necessary part of ageing.  There are many different causes and possible treatments to improve urinary incontinence and people should always seek medical attention for incontinence. It is not something to be embarrassed about; it is important to discuss the issue openly with a doctor.
Among the frail elderly, 11% are incontinent upon their admission to the hospital. They were previously living with urinary incontinence. The astounding part is that upon discharge from hospital, 23% of the frail elderly are incontinent.  And extended hospital admission puts a frail elderly senior at higher risk of becoming incontinent.
In many cases, seniors are effectively put on bedrest while in hospital. They are not getting up, and they quickly lose their muscle mass and strength to be able to get up and go when they need to.  Added to that, they may have worn incontinence products without attempting to use the washroom. After a few days or possibly weeks of failing to follow their body's urges, they may not be as attuned to their body's toileting needs. 
Worst of all, if someone is catheterized for extended periods, their bladder muscles have been held open to accommodate the catheter. Once the catheter is removed, the muscles do not always return to their previous condition and this greatly increases the risk of urinary incontinence.
When someone is discharged from hospital with the additional personal care need of incontinence care, their risk of being moved to long term care increases.  One of the top reasons for long term care admission is incontinence—that someone simply cannot manage their personal care needs at home, and their elderly spouse or other relatives cannot supply the increased care.
Within long term care, the high rates of urinary incontinence (between 50 and 70%) are partly due to this being a reason for admission. But others lose their ability to toilet within long term care. If they moved to long term care due to advancing dementia, they may have trouble learning their new surroundings. Finding and identifying washrooms can be a challenge. Within the washroom, nothing looks the same as their home bathroom and they can be easily confused. If they require toileting assistance either with physical transferring or cognitive cueing, they may have trouble waiting for staff who are attending to other residents. They may start to wear incontinence products and slowly their continence abilities are reduced.
Of course it is not as simple as saying "just don't go to the hospital and don't go to long term care and you won't become incontinent."  If someone needs acute hospital care, they would be foolish not to seek medical help!  And for some people, long term care is where their needs can best be served.
Overall though, urinary continence is largely a function of "use it or lose it".  Bladder muscles must continually be used to maintain their strength and form.  As much as possible, elderly loved ones should be encouraged to toilet frequently and continue toileting independently.
To further support bladder health there are some natural ways to reduce an overactive bladder, as well as functional toileting support for those with dementia to help maintain toileting independence for as long as possible.
| | |
| --- | --- |
| | Chloe Hamiton at 12:02 PM |
| | |
| --- | --- |
| How Does Dementia Impact Incontinence? | Thursday, July 2, 2020 |
Your mother hasn't been going out as much lately. She even declined a few outings with you recently, which is unlike her. Then you noticed a pair of soiled underwear shoved behind the toilet…and another soiled pair under the bathroom sink.
What she may be hiding is trouble with urinary continence.  She may be feeling embarrassed and is trying to hide it, or if she has dementia, she may be confused about how to cope with this new change.
There are many possible reasons and treatments for urinary incontinence.  Ensure your mother sees her doctor and speaks openly about what she is experiencing.  Many causes of incontinence can be addressed medically, and those should be addressed immediately.
You may be able to suggest some lifestyle adjustments that will help to support your mother's bladder, rather than irritate it. Read our other blog that addresses natural ways to support the bladder. If your mother has dementia though, the source of her challenge may be related more to her functional abilities than to her bladder directly.
As your mother's dementia advances, she may not be as responsive to the signals her body is sending.  By the time she realizes that her bladder needs relief, it may be too late to respond and she may not be making it to the washroom in time.
Another challenge can be complicated clothing. Buttons, snaps, zippers or belts may be proving a challenge in the washroom. The more barriers there are to quick washroom use, the more likely your mother is to be slowed down and not make it in time. Be especially aware of skirts or dresses with back closures since it may not be self-evident how to undo the zipper. Modified and accessible clothing may make it easier for your mother to be quick and self-sufficient in the washroom. Drawstring or elastic-waistbands are often the easiest to manage.
If your mother's dementia is advanced, it is possible she is confused about where to find the washroom.  Washrooms are not always easy to find, especially for someone with dementia.  Often, washroom doors remain closed, even when unoccupied.  Someone with dementia may not think to open closed doors to see what is behind the door. They may not have an intuitive sense of where a bathroom is likely to be located within a home or apartment. Although she may have lived in the same home for years, or decades even, dementia can cloud her memory and obscure what was once familiar. If she cannot easily find the washroom, she will not make it in time when nature calls.
Once she is able to locate the washroom, she may be confused about what to do once she's in there.  For some people with advanced dementia, the washroom can feel very confusing and overwhelming.  If the toilet seat lid is down, the toilet may not look familiar. A white toilet and white sink may look very similar and can be confusing.  A wastepaper basket may seem more familiar and is often mistaken for the toilet itself.
Sometimes people attempt to sit down facing the toilet, rather than with their back to the toilet tank, as it is typically used. Because it feels so unusual when facing backwards, there is no long-term memory to cue what to do next.  It can also be dangerous since balance is impacted and there is a risk of falling.
If someone needs cueing through each step of toileting, their apparent challenges with incontinence may be more related to functional abilities and less so to their bladder or bowel function. They may be able to hold their bladder or bowel and may even be aware of when they need a washroom, but the confusion sets in with how to use the washroom.  If someone is experiencing functional decline, various support measures can be implemented to promote independent washroom use.
Cue cards can be helpful for those who can read and interpret directions. If your mother is inclined to read instructions and follow the directions, a cue card in the washroom to cue each step may be helpful.  In some cases, colour coding the toilet seat vs. the sink can be helpful. Contrasting colours can make it easier to see which item is which. If cue cards and colour coding are insufficient, your mother may need a caregiver to cue her through each step of the toileting process. 
When functional ability is preventing someone from toileting successfully, look for which step is causing the confusion, or which component of mobility is posing the challenge. 
By solving that specific component, you can help support someone to toilet as independently as possible.  Engaging the support of a professional caregiver may also help in identifying precisely where the needs exist. For more ideas on supporting independent toileting and continence, contact us at Warm Embrace Elder Care.
| | |
| --- | --- |
| 8 Tips to Stay Cool this Summer! | Tuesday, June 30, 2020 |
We are all relieved when the snow finally melts, and the mucky spring weather turns into the balmy days of summer. But do you know how to stay cool and healthy in the summer heat?
Many people are aware of the dangers of too much exposure to the sun's UV rays, which can cause sunburns. Wearing sunscreen is always advised! But there are other concerns about heat, even if you avoid direct sunshine.
Heat exhaustion can occur from prolonged exposure to high temperatures and insufficient fluid intake. It can range from heat cramps to a severe form of heat stroke. Symptoms may include excessive sweating, cool, pale, and clammy skin, weakness, nausea, headache, dizziness, and elevated body temperature. If someone is exhibiting these symptoms, they need to be moved to a cooler place, have their clothing loosened or removed, and they need to drink plenty of cool liquids.
8 Tips to keep seniors (or anyone else!) safe in the summer heat:
1. Keep well hydrated! Drink eight or more glasses of water daily. Don't wait until you're thirsty to drink! Avoid caffeinated, alcoholic and sugary beverages, as they may dehydrate rather than hydrate.
2. Dress Appropriately! Wear loose-fitting and light-weight clothing.
3. Air Conditioning is your best friend! Remain indoors in the extreme heat and utilize air conditioning. If you do not have air conditioning in your home, go to a public place such as a library or shopping mall. Even a few hours of relief from the heat can prevent heat stroke.
4. Electric fans aren't always the best. Keep the house as cool as possible by keeping shades closed during the hottest part of the day. An electric fan may feel comfortable, but it does not prevent heat-related illness if temperatures soar into the mid-30's Celsius.
5. Cool down! Take a cool bath, shower, or sponge bath to lower your body temperature. Don't have the time? Then wet washcloths or towels with cool water and put them on your wrists, ankles, armpits, and neck.
6. Enjoy outdoor activities in the early morning or the evening when the heat is not as severe. Don't forget to use the broad-spectrum sunscreen with sun protection factor (SPF) of 15 or higher, and if it's sunny wear a hat and a pair of sunglasses.
7. Stayed Shaded when you are outside. Even in the early mornings and evenings, stick to the shade so you aren't as exposed to the sun's rays.
8.Know the signs of heat exhaustion so that you can get immediate assistance. Some symptoms to watch for are throbbing headache, dizziness, nausea or vomiting, hot dry skin with no sweat, muscles weakness, cramps and trouble breathing,
Enjoy a safe and healthy summer!
| | |
| --- | --- |
| Tips to Support Your Bladder | Thursday, June 25, 2020 |
Talking about your bladder may not be appropriate at a dinner party, and yet it's an important topic! Many people experience a "leaky bladder" and struggle with a frequent and urgent need to urinate.
There are many possible causes and treatments for urinary incontinence or frequent need to urinate. Anyone who is experiencing incontinence at any level—even minor "bladder leakage"—should discuss it with their doctor.  Sadly, only 25% of those with incontinence seek medical assistance. People often feel embarrassed or think that it's just a part of ageing.  If you find yourself, or someone you know, feeling like you suddenly have to go and you don't have enough warning, talk to your doctor!
In addition to seeking medical attention, there are some tricks that may help you to support your bladder rather than fight it.
Drink more water
This sounds crazy. If you're having trouble with your bladder, the last thing you want to do is flood your bladder with more liquid. But it can help!
When someone is worried about making it to the bathroom on time, they often start to limit their fluid intake. They drink less because they don't want to urinate frequently, or they're afraid they won't make it to the washroom in time. What they don't realize, is that they're actually making the issue worse. They are aggravating their bladder even more.
Concentrated urine irritates the bladder. The more concentrated the urine, the more desperately the bladder wants to dispose of the urine. Since urine is flushing toxins out of your kidneys, concentrated urine is full of toxins and your body is designed to get rid of those toxins quickly. Even a small amount of concentrated urine will irritate the bladder and signal the need to urinate.
Diluted urine, on the other hand, does not irritate the bladder.  The more liquid you put in the bladder, the more diluted the toxins from the kidneys. The bladder can hold a surprising amount of diluted urine without feeling the same strong urge to urinate.
If someone is chronically dehydrated, it will take a little while for their bladder to adjust to being suddenly flooded with a lot more liquid. But soon enough, the bladder will accept the increased volume and may not trigger the need for washroom use quite as frequently.
Alcohol, Caffeine & Artificial Sweeteners
The bladder is sensitive to other irritants as well.  Alcohol, caffeine and artificial sweeteners are all bladder irritants.  You're probably not surprised that alcohol irritates the bladder; there is typically a long washroom line up at any bar!  And caffeine may not be surprising either. Have you ever noticed how badly you need the washroom after your morning coffee or tea?  The lingering caffeine may continue to irritate your bladder, even after you've been to the washroom already.
The irritant that you may find more surprising is artificial sweeteners.  From packets of sweet-n-low to processed foods labelled as 'diet' that contain sucralose or other artificial sweeteners, these non-sugar sweeteners can irritate the bladder and cause frequent urination.  Drinking so-called-diet soda might be adding lots of fluid, but the artificial sweetener in that soda may cause your bladder to want to release it quickly! Aim to reduce or remove all artificial sweeteners.
To further support bladder health and prevent an overactive bladder, reduce caffeine intake, abstain from alcohol, and check all medications for side effects. 
Medication Side Effects
Be sure to check all medications for side effects.  Increased urination, or increased urge to urinate is a common medication side effect. If any of your medications list this side effect, talk to your doctor or pharmacist about possibly switching to a different version of medication that may not have the same side effects.
It is always worth having your pharmacist review all your medications. It is possible that the combination of numerous medications has caused a side effect that is not listed on any particular medication but taken in combination, new side effects can occur. 
Be sure to review ALL medications, vitamins, supplements, and over-the-counter medications that you are taking.  Natural supplements can have side effects too! Natural does not mean 'no side effects'.  Have your pharmacist review everything that you're taking and have them make recommendations on what you might adjust to limit the impact on your bladder.
Action Plan
If you, or someone you know, is experiencing the frequent need to urinate, start by scheduling a doctor's appointment. Urinary incontinence can greatly impact the quality of life; it is worth seeking medical assistance to ensure every possible source of incontinence is checked.
In the meantime, go for the low-hanging fruit!  Drinking more water and reducing caffeine, alcohol, and artificial sweeteners are relatively easy treatments to implement: they don't cost anything, and have numerous other health benefits as well.  It doesn't hurt to try increasing water intake as a way to reduce urinary incontinence or frequent washroom use.
Be sure to review your medications, supplements and vitamins with your pharmacist to look for any possible side-effects or medication interactions.
Now go fill a large glass of water and 'CHEERS!' to a healthy bladder!
| | |
| --- | --- |
| | Chloe Hamiton at 12:58 PM |
| | |
| --- | --- |
| Summer Vacations are Self-Care Days! | Wednesday, June 17, 2020 |
Vacation time! That time that you've been excited and waiting for all year. But when vacation time finally arrives you feel hesitant to leave because you are concerned about your elderly parents or your in-laws. This month on July 24th marks International Self-Care Day (ISD). Self-care is "any activity that we do deliberately to take care of our mental, emotional and physical health." So, going on a summer holiday break counts as self-care!
It hardly counts as a vacation when you have your cell phone and your laptop at the cottage in case of an emergency. Family caregivers may be the most deserving of respite care but they are often the last ones to actually book time off and go on vacation. The mental break away from everyday stress and demand is desperately needed, but there never seems to be a good time to go on vacation.  
Good self-care is key to improved mood, reduced stress and anxiety, and improved relationships with others! What family caregivers really need is peace of mind. They need to feel reassured that their loved ones are in good hands and will be well cared for.
Here at Warm Embrace Elder Care, we've assisted many clients during an adult child's holiday, and the client falls in love with the caregivers so much that the client is disappointed when the holiday is over! To think, families have delayed holidays and felt immense guilt over leaving for vacation, and yet their loved one benefits from the holiday as much as they do.
Vacation time doesn't have to be associated with guilt. Instead, it can be an exciting opportunity for everyone involved—family receive the much-needed mental break of being on vacation, and elderly relatives enjoy a new friendly visitor, someone who hasn't yet heard all the great stories!
If you or someone you know is over-due for a vacation due to concern about leaving elderly relatives, be reassured that there are options! For more information, call us at Warm Embrace Elder Care and we'd be happy to help. Everyone needs a break now and then.
| | |
| --- | --- |
| | Chloe Hamiton at 12:56 PM |
| | |
| --- | --- |
| 7 Father's Day Gift Ideas | Tuesday, June 9, 2020 |
You can still make Father's Day special for your dad, even if your annual tradition has been cancelled. With keeping social distancing rules, you can safely visit your dad or you can gift him a special gift.
Here are a few ideas on how you can celebrate your dad on Father's Day!
1. Enjoy the beautiful weather outside by golfing
Golf courses are now open in the region! Make sure to reserve your tee time by calling your favourite golf course. The trick is to plan ahead!
2. Go on a walk
Going one a walk is not only great exercise but also the perfect time to reconnect with your dad. Be sure to be mindful of the warmer weather. It may be best to go on a morning or evening walk when the weather is a bit cooler. 
3. Consider gift certificates
The physically demanding activities of home maintenance are likely difficult, so provide your loved one with a gift certificate for regular home maintenance chores such as grass cutting, garden upkeep, window washing, snow shovelling, etc.
4. Look into homemaking and household assistance
Household chores can also become quite burdensome. Your loved one will greatly appreciate a gift certificate for housekeeping. 
5. Purchase personal items
Residents in long-term care use their own preferred personal care items such as hand soap, lotion, toothpaste, etc. A care package of your loved one's favourite items is always appreciated! The scent is strongly linked with memory and emotion; selecting a favourite scent can induce positive memories.
6. Get creative and create a fun family photo wall
Photos are one of the ways to personalize your living space, be reminded of your closest friends and family, or commemorate a favourite event. For someone with advanced dementia, adjust their environment to match their internal reality. Have photos to match their strongest memories.  Select pieces that bring comfort or joy and spark a memory. 
7. Buy a cozy quilt or a weighted blanket
Having a cozy item such as a small blanket or lap quilt is always comforting. It can be left on the bed or on a chair in your loved one's room. If your dad has trouble sleeping, you should consider a weighted blanket. Weighted blankets are therapeutic by providing deep pressure stimulation to reduce anxiety, relieve pain, improve mood, ease stress and fight insomnia.
Your dad might be feeling isolated during these times so don't cancel your Father's Day plans. Instead, make it extra special for him. Comment below and share with us unique gift ideas and how you're going to celebrate Father's Day.
We hope you have a wonderful Father's Day. Happy Father's Day to all of the dads, grandfather's and great grandfathers out there!
| | |
| --- | --- |
| | Lissette Mairena Wong at 12:25 PM |
| | |
| --- | --- |
| What's Seniors' Month? | Tuesday, June 2, 2020 |
June is Seniors' month, and it's the perfect time to recognize and appreciate seniors! Seniors prove that aging doesn't need to prevent anyone from leading fulfilling lives, instead they outline that aging enhances life experiences.
Every day seniors are breaking the mold by leading fulfilling lives! So, let's put to rest those negative stereotypes when it comes to aging. Instead, we should all celebrate and appreciate the contributions that seniors are making in our communities.
Seniors are an important part of our community because they  contribute their wisdom, friendship and experiences. As a community, it is our responsibility to ensure that we create an environment where all citizens are valued and respected throughout the life process.
                           
How do we create that environment?
The key to creating this environment is prioritizing intergenerational opportunities, between the young and the old. When we create intergenerational opportunities, we are creating this space where seniors have the ability to pass along their wisdom and advice to generations. This environment then breaks down barriers between generations and puts to rest negative stereotypes that surround aging. When those barriers are removed, open and honest conversations are shared between different generations. When founded upon mutual respect, intergenerational learning can be deeply impactful for everyone involved!
Why is celebrating our Seniors so important?
When we celebrate our seniors, we are affirming that their contributions are ever so important to the fabric of our communities. Without our seniors' accomplishments, our communities would not be what they are today!
This June, in honour of Seniors' month, make an effort to spend time with someone who is from a different generation than you—or maybe even two or three generations! Pause, and truly listen, and learn from each other and you will reap the rewards of intergenerational sharing.
Here at Warm Embrace Elder Care, we want to thank all of the wonderful seniors that we see on a daily basis. We are continually learning from you and are enlightened by your viewpoints. It is an honour to serve you!
| | |
| --- | --- |
| | Lissette Mairena Wong at 2:32 PM |
| | |
| --- | --- |
| 5 Healthy Eating Tips for Older Adults | Wednesday, May 27, 2020 |
As we age our bodies experience physiological changes such as an increase/decrease in body weight, loss of muscle mass, absorption changes and sensory losses of taste & smell.
As our bodies change so do our nutritional needs! Eating nutritious meals in later years of life has been shown to have many positive side effects. Some of these include: increased energy levels, the ability to recuperate quicker from illnesses, manage chronic health problems and reduce the risk of chronic diseases.
The majority of older adults will have nutrition concerns such as dehydration, constipation, malnutrition, swallowing difficulties (known as dysphagia), diabetes, heart disease, osteoporosis, and arthritis. That's why some seniors will be on a special diet such as low sodium, diabetic or pre-diabetic, thickened liquids or minced/pureed foods.
There are 5 special nutrient needs to consider for your elderly loved one.
1. Protein
Most older adults aren't eating enough protein in their diet! Protein supports a healthy immune system, it prevents muscle wasting and optimizes bone mass. As we age, we begin to lose muscle mass so we shouldn't decrease our protein intake. Each meal should include at least 20-30 g of protein. Make sure there is a source of protein at all meals and throughout the day! For example, drink a glass of milk with your lunch or snack on nuts throughout the day. For your elderly loved one, a great snack with lots of protein could be a bottle of Ensure.
2. Calcium and Vitamin D
In a healthy body, bones are constantly being broken down and rebuilt. About 10% to 30% of the adult skeleton is replenished each year! As we age, our bones break down quicker than they can be built which leads to decreasing bone density. To help build our bones, we need calcium and vitamin D.
One way to increase calcium and vitamin D intake is to drink fortified beverages at meals, such as orange juice with vitamin D. Vitamin D supplements are also a great idea to increase intake. Another idea is to add powdered skim milk to beverages (coffee or tea) or to eat pudding/yogurt for dessert! It can be tricky to increase your vitamin D intake but remember that calcium and vitamin D work together to build our bones.
3. Vitamin B12
This vitamin is needed to make DNA, red blood cells and helps to keep the nerves working properly. It has shown that Vitamin B12 deficiency can lead to poor cognition, anemia, fatigue, depression, confusion and tingling in hands and feet. Vitamin B12 is primarily found in animal products and sometimes is added to other foods (e.g. soy products). That is why it is highly recommended for those on a vegan diet to take Vitamin B12 supplements. 
4. Fibre
Fibre needs are different between men and women over the age of 50. Men need about 30 g/day and women need about 21 g/day. Did you know that there are two types of fibre, soluble and insoluble? Soluble fibre lowers cholesterol level, controls blood sugar, prevents colon cancer and assists with weight loss. Insoluble fibre promotes regularity and a healthy digestive system. Soluble fibres can be found in oatmeal, beans, lentils, nuts, and fruits. While insoluble fibres are found in whole-grains, barley, dark leafy vegetables, brown rice, and root vegetable skins.
It is recommended to have at least 6 servings of grain products a day. The easiest way to increase fibre is to always choose whole-grain products rather than refined and processed grains. It is also recommended to have 7 servings of fruits and vegetables a day. When preparing vegetables and fruits, eat peels whenever possible and snack on fruit rather than candies.
5. Fluid
As we age our sense of thirst declines, therefore older adults are more likely to experience dehydration! If fluid intake is consistently low, older adults can experience symptoms of dehydration – thirst, dry lips and mouth, flushed skin, tiredness, dark strong urine, headache, fainting and low blood pressure. Older adults need a minimum of 6 cups of fluid per day to remain hydrated and healthy! Prioritize your fluid intake by carrying a water bottle throughout your day, drinking water as the first and last task in the day, and by eating soup for lunch/dinner. Don't ignore thirst! Drink before you feel thirsty. Drink, drink and drink water to combat dehydration!
Start a healthy lifestyle today!
It can feel overwhelming to start eating healthy but it's not impossible. Eating healthy can be fun! Look up healthy and delicious recipes and start cooking away with your loved one. If cooking is not your thing, consider prepared meals by this local catering business. They make incredible healthy delicious meals and snacks! It's never too late to start eating healthy. Why not start today?
| | |
| --- | --- |
| | Lissette Mairena Wong at 1:05 PM |
| | |
| --- | --- |
| Highlighting Local: Little Mushroom Catering | Wednesday, May 20, 2020 |
Have you been working from home, homeschooling the kids and caring for your elderly parents? You may be working more now than ever before and you are not alone! There are incredible local businesses that have switched their gears to help busy parents and adult children of elderly parents. Recently we connected with Stephanie Soulis, the founder of Little Mushroom Catering, and discovered that they've created a new service to help both busy adult children and isolated seniors.
Who is Little Mushroom Catering?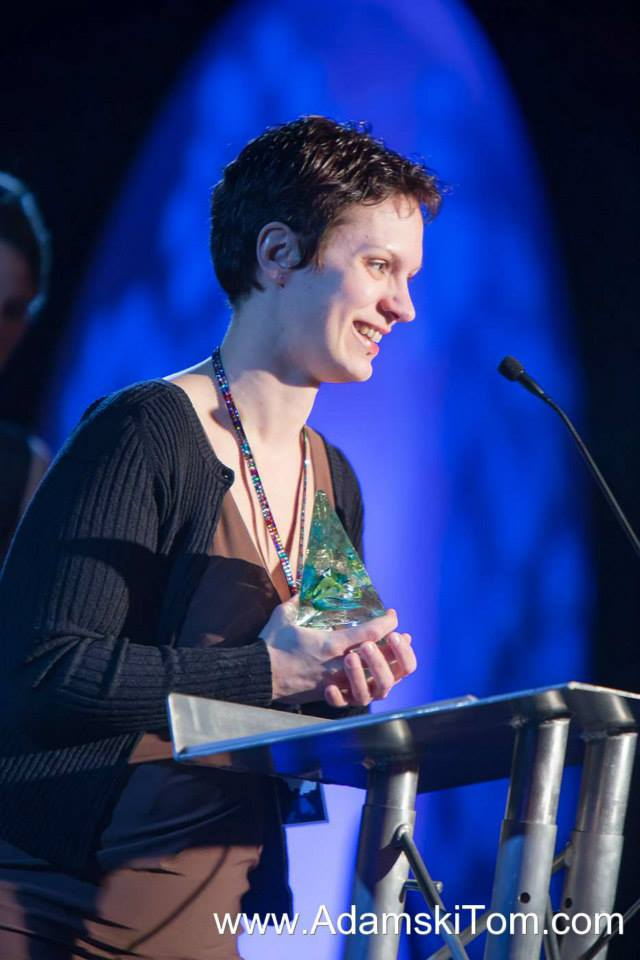 Little Mushroom Catering is a local catering business based in Waterloo Region. Over the past ten years, they have grown to become the leader of full-service catering in Southwestern Ontario, catering weddings and big corporate events. Their heart is to be community and environmentally focused. The majority of the ingredients and foods they use are sourced from local farmers, and they've won multiple awards for their sustainability efforts.
On March 15th, Little Mushroom Catering completely changed like so many other local businesses. As all of the big events that had been booked began to cancel, owner Stephanie Soulis knew that she had to do something to survive this pandemic. She began to hear the needs of parents and adult children with senior parents. She realized that she could provide ingredients and foods that were running low at grocery stores. Most of all, she realized that busy working parents need help cooking and decided to create a prepared meal service.
Prepared meals don't have to be bland and boring!
They can be delicious and nutritious when they are made with fresh ingredients! Soulis offers delicious prepared meals, snacks and sides. She said one of their most popular items is butter chicken; "ours isn't super spicy but it has tons of flavour so people who want to try something new often try the butter chicken since the heat levels aren't huge." Another classic meal they offer is pulled pork. It sells out almost weekly!
Other great meals for seniors include lasagna, chilli, tomato soup, Thai carrot soup,
broccoli cheddar soup, and of course their weekly specials. The amazing part of Little Mushroom Catering is that everything is made from scratch! If your loved one has a special diet or request, they can easily accommodate "because [they've] been making everything fresh."
Healthy & Special Diet Accommodation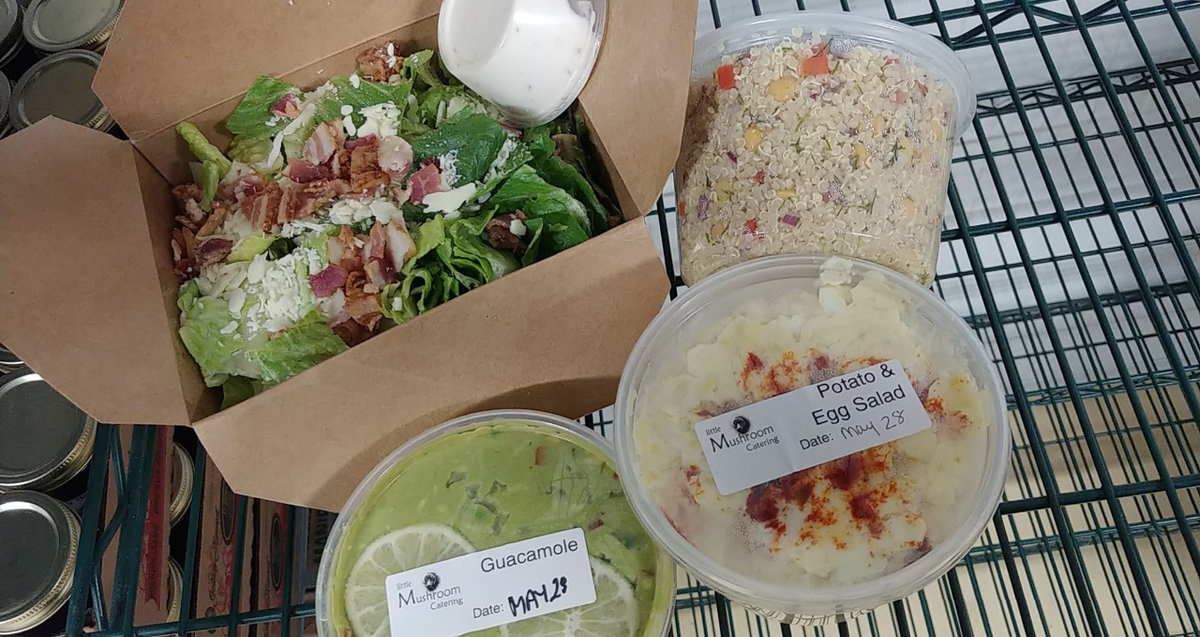 Soulis was inspired to include heart-healthy options after one of her regular clients suffered a heart attack. Every week he would order his meals, and one week she noticed that he didn't order. She soon found out that he had a heart attack from being overworked and stressed during this pandemic. Soulis said "because of him we wanted to ensure that we're making healthy foods. We love cooking with butter but we have options [that are] low sodium, low sugar, and low fat." They also have vegan, vegetarian, gluten-free and nut-free options – their entire facility is nut-free!
So, how do you order these delicious meals?
You can either order over the phone or online – both are great options that only take a few steps! You can choose their delivery option or their pick up option. Little Mushroom Catering provides deliveries on Tuesday and Thursday evenings and they cover a wide geographical area.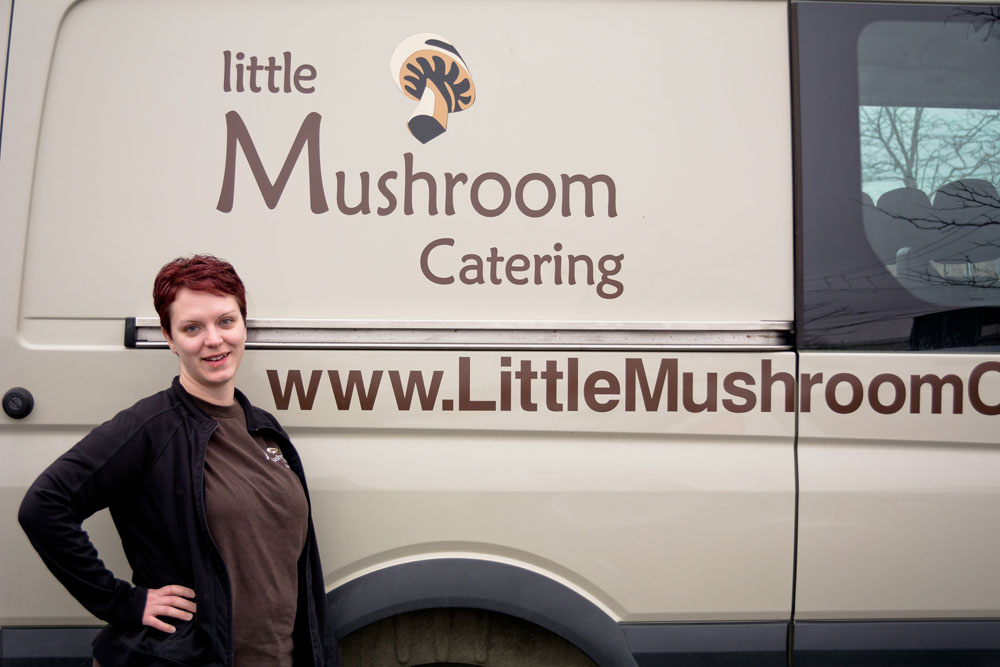 They also have pick-up options every Tuesday, Thursday and Friday afternoon from 1 to 4 pm. For pick up, all you have to do is request a time and they bring the food out to your trunk! You remain in your car and pop the trunk—it's that easy. The delivery service is a great option for busy parents, homebound seniors, or anyone without a driver's licence. You could even have the food delivered to your elderly parents' home, just make sure to give them a heads up.
Prepared Meals Plus More
Little Mushroom Catering does even more than prepared meals. They also have a grocery store cart online. When you are ordering your prepared meals, you can also order fresh local ingredients that you can't find at grocery stores.  There are fresh ingredients (like local asparagus) as well as pantry goods you may need to stock up on. They always have flour and toilet paper if you need it!
The truly tempting part is the dessert section. They have a large selection of delectable desserts; you're bound to find a sweet treat for almost any taste.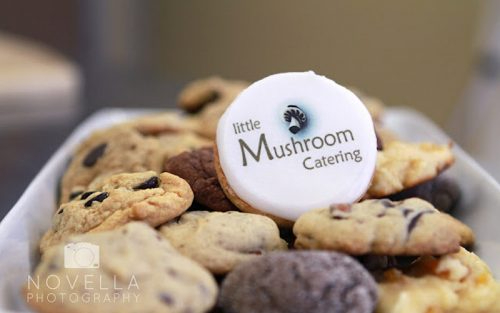 Little Mushroom Catering also gives you the opportunity to pay it forward. In their grocery store cart, you can give back by adding a $15 meal for a frontline worker or a $2 cookie for a healthcare worker.
Let's support local!
Instead of buying typical frozen meals that are full of sodium from a big-box grocery store, consider Little Mushroom Catering. They are local, using fresh locally-sourced ingredients, to create healthy meals. Not only are you supporting the local business of Little Mushroom Catering, but you're also supporting their entire local supply chains such as Oakridge Acres beef or Barrie's Asparagus or sauces from Wooden Boat Food Co.
When it's too hot to cook or you want to ensure that your elderly relatives have a filling, healthy meal, be sure to check out Little Mushroom Catering and have your next delicious meal delivered!
| | |
| --- | --- |
| | Lissette Mairena Wong at 12:01 PM |
| | |
| --- | --- |
| Let's Celebrate Our Nurses | Thursday, May 7, 2020 |
Nurses Week is celebrated every year in May. This year let's go above and beyond to show our appreciation to our local nurses. During this time, our nurses are our frontline heroes. They are putting in long hours at hospitals, clinics, retirement homes, long term care homes, etc. They are working to keep you and I safe during these times, and that's why we – as the community – should express our appreciation. 
Let's work together to celebrate our nurses! Here are 6 ways you can celebrate Nurses Week!
1. Write a heartfelt card
You can write encouraging thank you cards to nurses at your local hospital and long term care homes. 
2. Mail a grocery store gift card
Why not leave a little present inside the card? You can pre-order grocery store gift cards online or the next time you're at the grocery store, pick up a couple of gift cards.
3. Bake or cook a homemade meal
If you know a nurse personally, make him/her a warm home cooked meal or some delicious baked goods. It'll be one less task they'll to do once they're home from a long workday. 
4. Donate Personal Protective Equipment
If you're crafty, sew masks for nurses and if you're not, you can always donate to an organization that's distributing PPE. Keep it local and donate to local organizations and businesses.  
5. Join a community celebration
You can join an organized parade to celebrate nurses at the local hospital. 
If you live on a busy street, start a poster campaign with your neighbours! Create large posters that say "Thank you!" and display them on your porch, lawn or bay window. As frontline workers drive-by they can read your poster. 
6. Praise their hard work on social media
Post an appreciation post on your personal social media account! If you are looking for social media content like and share our material from our Facebook page.
Let's work together to show our frontline heroes how much we appreciate their hard work. Let's go beyond words of appreciation, let's take action. Comment and share on how you are going to celebrate Nurses Week!
| | |
| --- | --- |
| | Lissette Mairena Wong at 12:00 PM |
Contributors
Latest Posts
Archive
2020

July

June

May

April

March

February

January

2019

December

November

October

September

August

July

June

May

April

March

February

January

2018

December

November

October

September

August

July

June

May

April

March

February

2017

December

November

September
Tags
Everything
Dementia
Long Term Care
Homecare
Retirement Home
Alzheimer's
Parkinson's
Aging
Elder Abuse
Holiday
Warm Stories
Healthy Living
Health Care
Events
Companionship
Sandwich Generation
Respite Care
Independence
Staying in your own home
Parents Refusing Help
Activities